CURRENT ISSUE
JAN - FEB-2019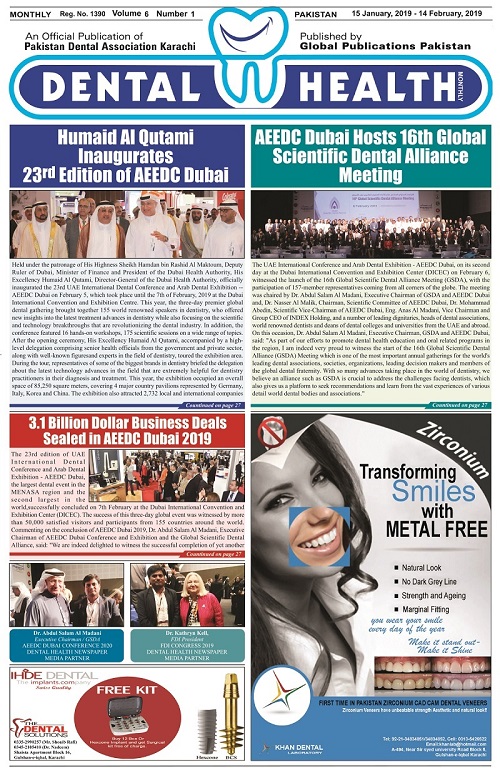 PDA(K) OFFICIALS
Say About Dental Health Newspaper

Prof. Dr. Navid Rashid Qurashi


Dr.Mohammad Feroz Jahangir

DENTAL COLLEGES NEWS
* PAO & PPA INTERNATIONAL CONFERENCE JULY 2018 AT QUETTA.
* BIOTEM IMPLANT SYSTEM & BIODENT PAKISTAN LAUNCHING PROGRAM ON 15, SEPT. 2018 AT KARACHI.
* Mr.Ashraf Ghori (DTMA) Message
* PDA(K) News
* PMDC News
* ICDE Implant Course


QUIZ WINNERS
Dental Health Newspaper and 3M proud to announce the Winners for "Defence Day Quiz" on 6th Sep,2014.
We Congratulates
Dr.Haroon Ashraf
and
Dr.Ayesha Anjum
as the Winners for this competition.

INTERNATIONAL DENTAL CONFERENCE'S
In various countries Dental Conference's and Event will conducts, we provide details of Dental Conference's and Events with their dates and venues.
PPA & PAO INTERNATIONAL CONFERNECE 2018 - QUETTA


PDA Congress 2015 - Multi-Disciplinary Approach in Dentistry
Welcome to the official PDA Congress 2015 home page! As the dental community of Pakistan gears up to become part of the biggest, most happening event of the year, we aim to keep you updated with all information, registration details, event schedules and much more by being your one-click online guide throughout the event.
Examine, explore, experience and excel with PDA Congress 2015!